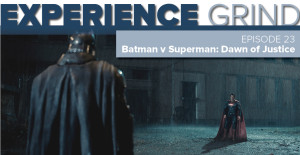 SPOILER WARNINGS!!!!!
Boy do we have a doozy of an episode this week! We discuss and break down the Zack Snyder Oscar vehicle Batman v Superman: Dawn of Justice. What exactly is this movie? Is it a West Side Story-knife-fight-in-the streets film? Or is it a Kramer vs Kramer court battle over the custody of children? We don't know and honestly, at times, felt like the people making this movie didn't know either.  As we talk about it in great detail, join us for an episode that seems almost as long as the movie!
We're joined again by friend of the show, Nathan, who adds his dry, sarcastic wit and biting criticisms as always.
Find us at these places!:
www.experiencegrind.com
twitch: https://www.twitch.tv/experiencegrind
youtube: https://www.youtube.com/channel/UCdrXJmvpFgfn7E0oBIe1mfg
facebook: https://www.facebook.com/experiencegrind/
twitter: @expgrindpodcast
email us requests at: experiencegrindpodcast@gmail.com
Podcast: Play in new window | Download (Duration: 1:20:09 — 45.9MB)
Subscribe: Google Podcasts | RSS