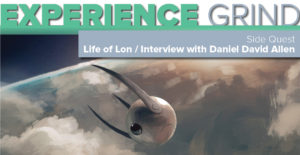 In this episode we took a trip to Chicago to talk with Dan Allen about his upcoming Virtual Reality game "Life of Lon." We cover a lot of ground in this episode, from the current challenges VR poses, to how creators are developing for the medium, and where it could all lead to someday.
If you have been curious or on the fence about the world of VR, we highly recommend you listen to this episode and see if it answers any of your questions.
FOLLOW LIFE OF LON HERE!
http://www.blockinterval.com/#intro
Twitter: https://twitter.com/blockinterval
Facebook: https://www.facebook.com/blockinterval
Find us at these places!
www.experiencegrind.com
iTunes: https://itunes.apple.com/us/podcast/experience-grind/id1052501940?mt=2
Stitcher: http://www.stitcher.com/podcast/experience-grind
twitch: https://www.twitch.tv/experiencegrind
youtube: https://www.youtube.com/channel/UCdrXJmvpFgfn7E0oBIe1mfg
facebook: https://www.facebook.com/experiencegrind/
twitter: https://twitter.com/expgrindpodcast
Podcast: Play in new window | Download (Duration: 1:05:33 — 37.5MB)
Subscribe: Google Podcasts | RSS